1. Sales, Promotions & Discounts
Prices as marked.
Not in conjunction with any other offer.
No rainchecks.
Discount does not apply to gift cards.
Selected styles only.
2. Pricing
All prices displayed on our site are in Australia dollars
All prices displayed on our site include GST
All prices displayed on our online stores are exclusive of shipping costs.Refer to SHIPPING AND DELIVERY for more details.
3. Payments
All orders are calculated in Australian Dollars and can be paid for via credit card with Visa, MasterCard or a debit card, PayPal, Afterpay or Zippay. We believe that all of our customers should feel safe when purchasing from our online store. Therefore, we have implemented a secure payment system to protect against fraudulent activity. In addition, we do not hold your credit card details after your order is complete, as they are submitted directly to our banks. If paying by debit or credit card, your account will be debited when you have completed Check Out. Payments made by Paypal, Afterpay or Zippay are subject to their terms & conditions.
4. Gift Cards
Gift Cards can be redeemed online. You can select any number of gifts up to the value of the card, or above the value – in which case you need to make up the difference with an alternative form of payment. The store will then validate the card and process your purchase. However, any unused balance will not be refunded or credited on expiry.
5. Promotion codes
On the occasion, we will offer sales codes to be used on our online store. These are advised through either our newsletters, or advertised online. You can apply these codes at time of checkout in the 'Enter Promotion Code' box. Ensure that you're entering the code exactly how it appears, and that it's still within its validity dates.
6. Partial cancellations
From time to time due to unforeseen stock issues, we unfortunately will not be able to completely fulfil your order. If any of your items in your order are out of stock, you will not be charged for these. Please allow your statement to update to reflect the final amount charged by Silver Petals; this process usually takes 5-10 working days depending on your financial institution.
7. Delivery
DELIVERY IN AUSTRALIA
Standard Shipping - $10.00
Free – Spend over $100.00
Free – For Premier Customers
Delivered within 6 working days to Metro areas
Delivered within 7 working days to non-Metro areas
Delivered within 14 working days to rural areas
Delivery is Monday to Friday
Express Shipping - $14.99
Free - For Premier Customers
Order by 12 noon AEDT on Monday to Friday
Delivered within 2 working days to metro areas and within 3 working days to the rest of the country.
8. Checking the status of your order
We recommend that you create a Silver Petals account before you checkout, so you can check the status of your order. This will appear as 'Processing' until your parcel has been dispatched from our warehouse. You can track your order by simply entering your tracking number in colink below.
https://www.silverpetals.com.au/_myacct/nr_track_order
9. Returns
We want you to be 100% satisfied with your Silver Petals shopping experience, if for any reason you have any issues with your purchase, we are more than happy to help! Please read of our returns policy and follow the instructions to return your item. If you have any questions about our policy just contact us by emailing us at returns@silverpetals.com.au
For your benefit we strongly advise all customers to check garments thoroughly upon delivery before removing any attached tags and before disposing of any original packaging in the event they need to be returned or exchanged.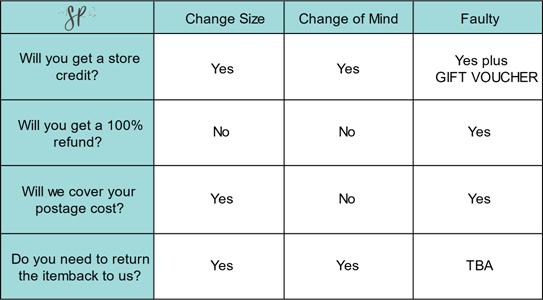 10. Cookies
Cookies need to be turned on in your browser for you to log-in and add products to your cart. Most browsers will have this as a default setting. For information on how to do this, please look under "help" in your browser menu. If you're using a public or a friend's computer, be sure to sign out of your Silver Petals account to ensure the protection of your information. You can log out by clicking the 'logout' link in the top right hand corner of the website.
We do not use cookies to keep personal information or to sell to third parties. For more information about how we use cookies, please see our privacy policy.
11. Website content
Silver Petals aim to provide our online shoppers the most accurate product details, however we cannot 100% guarantee exact colours shown on our site to reflect the product you receive.
We are constantly updating our site to increase user clarity; therefore we reserve the right to change website content without notice.
The use of all Silver Petals brands' trademark is strictly prohibited for use of others unless we provide legal consent.